With the current social distancing efforts and shelter-in-place mandates throughout the country, many office workers are now performing their jobs from the comfort of their own homes. However, in the case of remote work, comfort – at least in the traditional context – isn't always ideal for productivity.
Home comforts are soft. Whether it be a favorite couch, pillows, pair of slippers, your family pet, or the classic Lazy Boy recliner, most of us have a go-to amenity we rely on to help us unwind after a long day at work.
By contrast, offices tend to be void of cushy furnishings. Rather than comfort, office features are designed to optimize function and concentration: bright lighting, sturdy desks, and ergonomically sound chairs.
Home is for relaxing; the office is for working. But now that line has blurred, and one space must accommodate both functions.
Compartmentalizing Home and Work
At first, it might sound fun to work on your laptop in bed, enjoying the blissful luxury of all-day pajamas and solitude. But after a few days, "cozy working" can become detrimental to both comfort and productivity. Backs and necks begin to ache from all-day slouching; schedules become ambiguous as meals are skipped and work hours become less defined; and feelings of isolation can start to sink in.
This doesn't mean you have to hide all the throw pillows and install florescent lights in your living room. In fact, physical comfort has been shown to boost employee effectiveness - as long as it's not at the expense of a healthy posture and overall body positioning.
But it is important to create an obvious separation between work and lounging. Even if you don't have a spare room or home office, you can dedicate a small area of the house just for work, transforming it into a functional and comfortable space to facilitate maximum creativity and productivity.
Home Workspace Tips for Employees:
Choose a spot in a quiet area of the house to set up your workspace.
Remove clutter and clear the area of unnecessary distractions.
Set boundaries with your family or roommates to minimize interruptions.
Make sure your setup is ergonomic and the lighting is adequate.
Decorate the space to make it visually appealing. (For example, add a painting or houseplant.)
This video offers a few ideas for setting up a home office in tight spaces.
(audio recommended)
How Employers Can Help:
Make sure your employees have all the equipment they need to do their work from home.
Consider offering a stipend for them to order any necessary supplies for their workspace.
Create and send a list of best practices to for optimizing their daily work schedule.
Encourage, support, and trust your staff to get their work done to the best of their abilities.
Create an open communication channel for employees to express any challenges and make requests.
The following infographic offers some tips for a successful day working from home.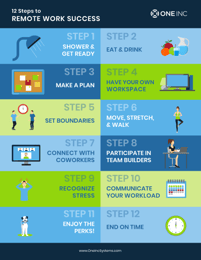 Download the Infographic
If there is a silver lining to the extreme measures we're all taking to fight the spread of COVID-19, it's that we've been forced to rethink issues which, until a few short months ago, many of us had taken for granted as a standard and permanent way of life.
From groceries and paper products to workouts and workspaces, we've had to find creative solutions - some of which may continue to prove useful even after this crisis has passed. Hopefully, as we build a stronger remote working infrastructure throughout the country, companies and employees will be able to enjoy all the benefits of greater workplace flexibility moving forward.
###
This article is part of our ongoing Business Continuity & COVID series. Our goal is to provide information, inspiration, and resources to help insurers get through this time of community crisis, social distancing, and economic uncertainty. We are not medical professionals. However, we have been lucky enough to experience business continuity in the face of the novel coronavirus (COVID-19) pandemic. We'll be sharing some of the experiences that have helped us, in the hopes that you, too, can find creative ways to grow and build strength in your organization and policyholder relationships, even during these difficult times.
More resources are available on our Business Continuity page.
You might also enjoy:
- Working from Home: Best Practices for Employees
- Rise Together Against COVID
- Stories That Inspire
- Insurance Industry: 12 Trends for 2020 in the New Normal
---
Disclaimer: All information provided is meant for educational purposes only. For medical advice and regulatory information regarding the novel coronavirus (COVID-19, or COVID), please contact your healthcare provider or local health departmen