Some employers have been hesitant to offer telecommuting options for fear of potential harm to work ethic and performance. But with widespread shelter-in-place orders amid the COVID-19 public health crisis, these companies have been forced to adopt the unfamiliar working arrangement, with little or no time to prepare in advance.
Luckily, there is significant evidence supporting the benefits of working from home, including less time spent commuting, improved morale, decreased distractions, larger talent pool, greater efficiency, more cost savings, healthier workforce, and increased retention, just to name a few. Not only has remote work been shown to have a positive effect on productivity, but employers are often surprised to learn that when problems do arise, they tend to revolve around over-working, rather than under-performance.
It's not too late to develop a strategy to establish guidelines and help streamline your organization's work-from-home capabilities. Because the biggest challenge for most remote workers is finding a healthy balance, you can help your employees by creating a list of best practices to help them adjust.
Here are 12 tips compiled from seasoned work-from-homers that may help your staff avoid some of the common pitfalls as they transition into their new daily work environment.
12 Steps to Remote Work Success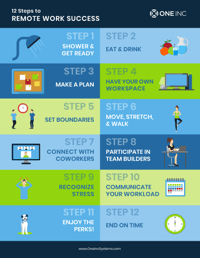 Download the infographic.
1. Take shower and get ready first thing in the morning.
Starting the day dressed and polished is important for creating your productivity mindset. You probably don't need to wear a suit every day, but a nice shirt and combed hair can go a long way toward making those surprise video conferences seem a little more professional on both sides of the camera.
2. Eat meals & stay hydrated.
Skipping meals and not drinking enough water are common mistakes for remote workers. One of the side effects of ultra-productivity is that time flies at lightning speed, and "just one more thing" can quickly turn into a few hours. Also beware of the other nutritional no-no, mindless over-snacking.
3. Make a plan before you get started.
Just like at the office, writing out your top goals can help you stay focused throughout the day. It may seem counterintuitive, but be sure to schedule your breaktimes into your plan as well (see item 2). And don't forget to set the ending time.
4. Work in your dedicated workspace at least 80% of the time.
A dedicated workspace is critical for separating work and home. You can change your scenery occasionally if that helps you stay fresh and avoid cabin fever. Take a chair and laptop out to the back porch, or retreat to a favorite cozy spot – but only for a short, defined timeframe. You don't want to fall into the ergonomic nightmare that is most home furnishings.
5. Set and communicate boundaries with your co-dwellers.
Talk to your partner, family, roommates, etc. to establish when, how, and where you are - and are not - available. You may need to add some self-accountability measures into this conversation, if you find you're prone to social distraction.
6. Move, stretch, and walk around.
In most office environments, we take a lot of short-distance walks throughout the day - to a coworker's cubicle, the boss's office, or the coffee pot, for example. Working at home, almost everything is done from your computer. It's important to step away every now and then to stretch your legs, wiggle your fingers, and blink your eyes.
7. Connect with your coworkers daily.
Especially if you don't have a meeting scheduled for that day, it can help reduce feelings of isolation to reach out to your team at least once a day. Send an instant message, or better yet, hop on a video chat for a brief check-in.
8. Participate in remote team builders.
This can include a virtual happy hour, coffee talk, or a fun group challenge. Brainstorm with your team to find the activities that work best for the group, put them on the schedule, and participate.
9. Recognize feelings of isolation or stress and address them early.
Sometimes our body sends warning signs before we realize we're overdoing it. Recognize your stress-signals and take measures to address them – meditate, rest, or reach out to a friend.
10. Measure and communicate your workload.
Working from home, nobody can see what you're doing (much less the volume of your work, or how much stress you're under). Communicate with your boss and coworkers and make adjustments if you find your workload is too heavy or too light.
11. Take advantage of the perks of working from home.
In most situations, it's okay to do the laundry, walk your dog, or chat with your partner in the middle of the day, as long as you still get your job done and are available to your team. Working at home may not be tropical-resort style luxury it's often assumed to be, but the benefits can outweigh the challenges as long as you find the right balance.
12. End on time.
Close your laptop at your predetermined end-of-day, and do not return to your workstation until the next workday. Your off-hours are for YOU. Cook, eat dinner, chat with your loved ones, enjoy your hobbies, work out, read, watch a show, or do anything else that puts the "life" into your work-life balance.
The trick to a successful remote working experience is to create a routine that's as close as possible to what you're used to. Or better yet, take this time as an opportunity to improve it. Communicate with those around you – both in the home and your remote coworkers – to stay connected and keep an appropriate balance that allows you to do your best work and to live your best life.
###
This article is part of our ongoing Business Continuity & COVID series. Our goal is to provide information, inspiration, and resources to help insurers get through this time of community crisis, social distancing, and economic uncertainty. We are not medical professionals. However, we have been lucky enough to experience business continuity in the face of the novel coronavirus (COVID-19) pandemic. We'll be sharing some of the experiences that have helped us, in the hopes that you, too, can find creative ways to grow and build strength in your organization and policyholder relationships, even during these difficult times.
More resources are available on our Business Continuity page.
You might also enjoy:
- Setting Up a Comfortable Home Workspace
- Rise Together Against COVID
- Stories That Inspire
- Insurance Industry: 12 Trends for 2020 in the New Normal
---
Disclaimer: All information provided is meant for educational purposes only. For medical advice and regulatory information regarding the novel coronavirus (COVID-19, or COVID), please contact your healthcare provider or local health department.