The vast majority of B2C companies rely on email and social media for digital communications with their customers. And while both are important parts of a multi-channel engagement strategy, the barrage of daily messages has led to a climate of inbox overload and social ad fatigue. The chances of the recipient opening, reading, and responding to any given message declines as more and more brands compete for consumers' time and attention.
Meanwhile, text (SMS) is another popular communication method, yet it is rarely utilized by businesses. Introducing SMS to your messaging ecosystem allows you to cut through the digital noise and connect with your policyholders on their preferred channel. To avoid over-saturating their phones with too many texts, it's best to limit your interactions to those vital messages that need an immediate response, such as a payment notification.
Why Text?
Texting is a way of life in America. Consumers check their phones an average of 47 times a day, and 98% of texts are opened within three minutes. This affinity for text messaging is not limited to personal contacts. In a recent study, seven out of ten respondents considered SMS communications with businesses to be effective, and nearly half said they respond to branded texts.
Check out the following infographic to learn more about the advantages of offering Pay by Text options.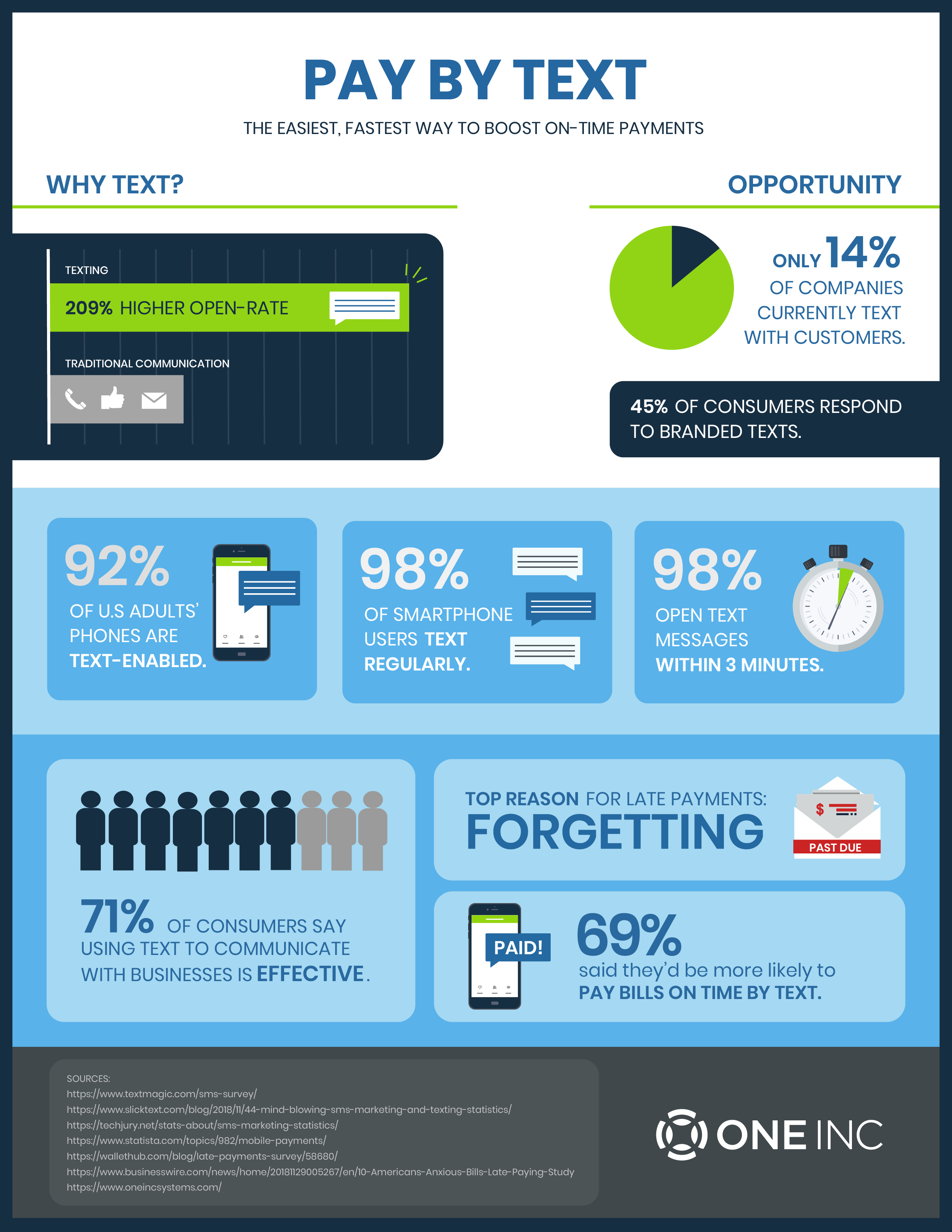 As you can see, consumers pay close attention to their text messages. And with only 14% of businesses currently using SMS, your organization has an opportunity to reap the benefits of this valuable channel with minimal competition.
Why Pay by Text
We now know that texts make people happy. But bills? Not so much. In fact, more than half of all Americans suffer from anxiety over bills. Consider the following:
For people who struggle to pay their bills, there's a huge difference between a difficult, frustrating payment experience versus one that is easy and stress-free. By empowering your policyholders to pay their bills with a simple text, you create a positive customer experience and increase the likelihood of on-time payments.
Will Policyholders Pay by Text?
In short, yes. Mobile payments are quickly becoming a mainstream payment method. Over half of all U.S. adults have made at least one payment using their phones in the past year, and nearly a third (29%) would prefer to pay all their bills via mobile.
According to a recent Aite poll, when asked how helpful a Pay by Text option would be for paying bills on time, respondents reported as follows:
29% said it would be extremely helpful
25% said it would be very helpful
32% said it would be moderately helpful
7% said it would be slightly helpful
7% said it would be not helpful
With more Americans adopting and preferring mobile payments each year, Pay by Text is a logical next step for providing a modern customer experience and encouraging more on-time payments at the same time.
If you're not reaching out to policyholders via text, you could be missing out on a prime opportunity to delight your customers. Most people are open and willing to share their text-space with branded messaging, and they are more likely to pay their bills on time given the option to text their payments. Expanding digital engagement methods and leveraging text for your most important communications can strengthen your relationship with policyholders, leading to increased customer satisfaction, retention, and persistency.
---
Want to know more about the One Inc Digital Payments Platform's Pay by Text capabilities?