With insurance retirees rapidly outnumbering new recruits, insurers are having trouble filling the empty roles left behind. Additionally, recent digital advancements in the industry require fresh skill-sets, compounding the urgency to hire new talent.
This employment discrepancy – with positions opening faster than they can be filled – is often referred to as the "talent gap." While there is plenty of talent in the budding workforce, many younger job-seekers don't consider insurance a viable career option, dismissing it as an outdated profession with little to offer in terms of innovation.
How to Find Qualified Candidates
To attract qualified applicants, you'll need to show them why they should apply. Emphasize the modern developments in insurance and technology, along with the substantial benefits of working in the industry.
By getting the word out, you can help break through some common misconceptions, and inspire the next generation of eligible candidates to consider a career in insurance.
Top 10 Reasons to Build Your Career in Insurance
Looking for more qualified candidates? Start using the infographic today to help boost recruitment! Click here to get the PDF, or scroll down to the bottom of this blog.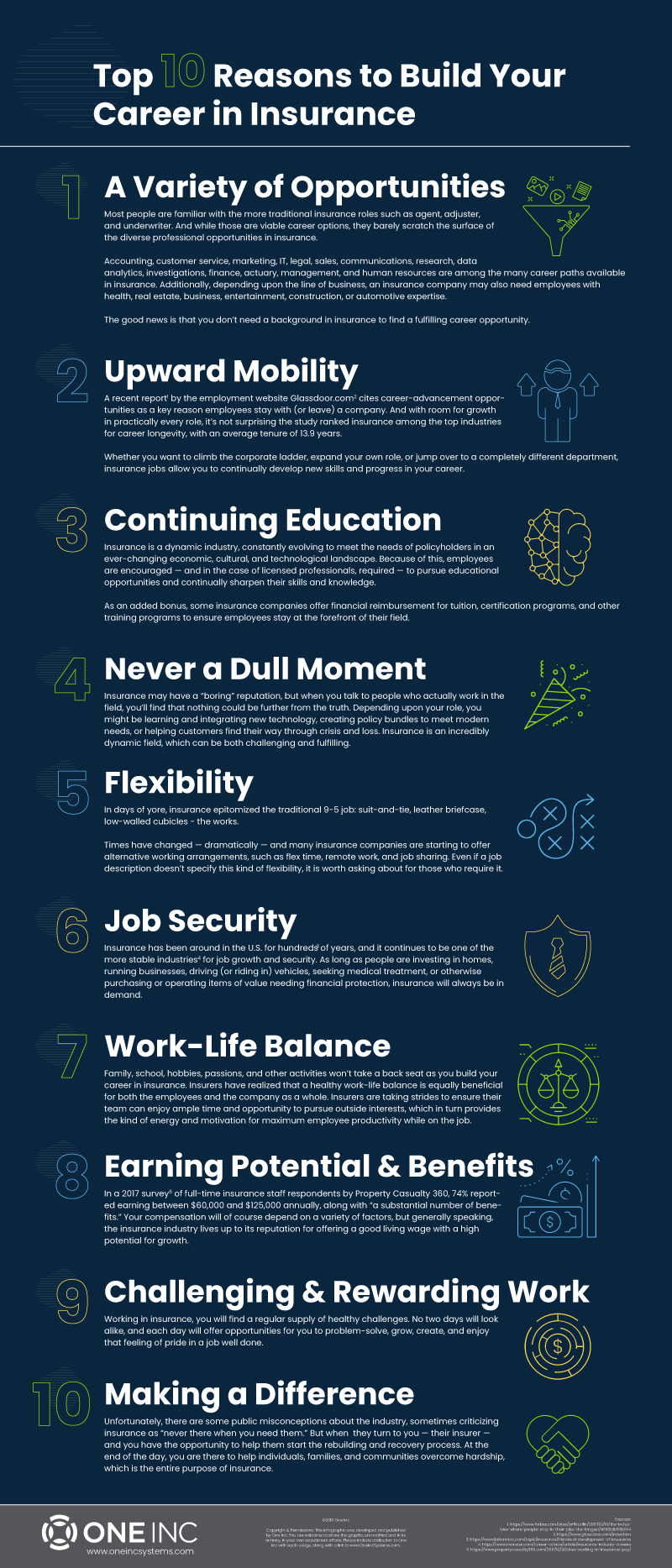 Copyright & Permissions: This infographic was developed and published by One Inc (c) 2019. You are welcome to share the graphic, unmodified and in its entirety, in your own recruitment efforts. Please include attribution to One Inc with each usage, along with a link to this blog post or www.OneIncSystems.com.
Fill out the form to download the PDF
---
You might also be interested in:
How Insurers Can Solve the Talent Gap
How Flex Work Helps Insurance Companies Solve the Talent Shortage