This blog is a recap of a webcast hosted by Insurance Innovation Reporter and sponsored by One Inc. The webinar, titled, 'Payments: The Moments of truth That Make or Break Customer Retention,' took place on Thursday, January 25th. To access the recording, click here
SPEAKERS
Moderator: Anthony O'Donnell, Executive Editor at Insurance Innovation Reporter
Presenter: Karlyn Carnahan, Head of The Americas Property Casualty Practice at Celent
Presenter: Colin Zalewski, Senior Product Marketing Manager at One Inc
SUMMARY
Retention and loyalty are driven by customer experience. What policyholders require to make their experience a positive one is different today than it was a decade ago, and yet many insurance carriers, even if they are aware of this change, are struggling to evolve and meet the needs of the modern policyholder.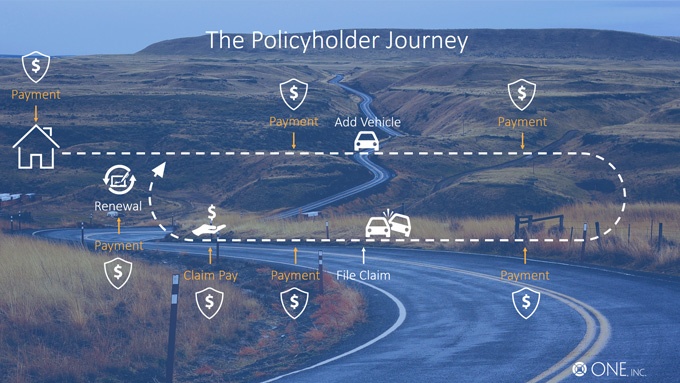 This slide from the webcast shows how payment are the most frequent and forgotten part of the policyholder journey.
Not only do today's policyholders demand digital engagement as the primary way to interact with their insurers, the way in which they pay their bills has changed as well, ushering us into the Digital Payments Era. This new era of payments brings us to the intersection of customer experience (CX) and payments. The greatest opportunity for meeting the needs of today's policyholder is through payments because of the frequency with which they take place, plus the evolved preferences for bill pay. A frictionless digital payment experience is possible and requires coordination between Finance, IT, and Customer Experience—all in the name of increased loyalty and retention.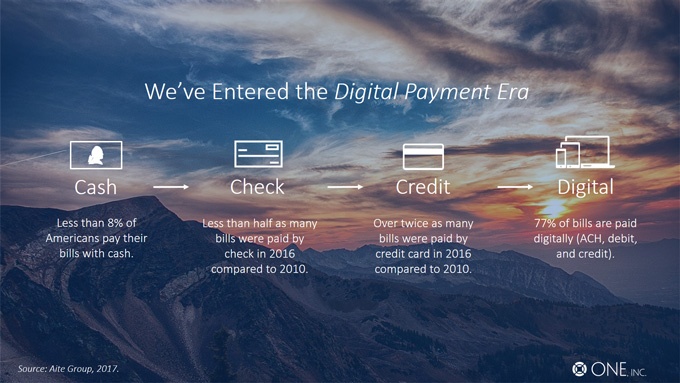 The way people pay their bills has evolved, with over three-quarters of people paying their bills digitally.
KEY TAKEAWAYS
1. Winners place policyholders at the center.
The new breed of policyholder has ushered in a new value chain. Carnahan pointed out that the new value chain is not about taking the policyholder on a linear journey driven by the carrier. In fact, the policyholder is central and drives the value chain. They want to be known, involved, and spoken to, and they want help recovering, preventing loss, and protecting themselves. You see, today's policyholder places himself/herself at the center – requiring service providers, including but not limited to insurers, to adapt to their preferences, rather than being processed through a rigid, one-size-fits-all system. The people paying for the service want to have control over how their service provider interacts with them… How about that?
2. Retaining policyholders has never been harder than it is today.
Put simply, fewer and fewer people hold brand loyalties. On a personal note, I used to vow I'd never wear anything but Nike for exercise. Today, I run in New Balance shoes, Saucony socks, Ascics shorts, and an Under Armour top – people change the times, and the times change people. The time we're in right now is not one of brand loyalty. When you combine that with the growing number of alternatives for insurance coverages and channels to acquire insurance, you've got a perfect storm. When people are disloyal and have an abundance of choices, retention tanks (insert solemn nod from insurance execs). To increase retention, you've got to acknowledge and appeal to what today's policyholders care about most – transparency and experiences, and they want it mobile. Yet, most carriers fail to capitalize on the opportunity to turn the payment process into an experience that matches the values and characteristics of today's policyholders.
Today's policyholders demand an engaging experience across the channels they use the most. This is made possible through a Digital Payments Platform.
3. Payments are a cross-functional COE.
Lastly, the webinar discussed the cross-functional nature of payments. While there may be as many as a half-dozen different groups with a vested interest in the payment experience, the three main groups are (1) Finance, (2) Customer Experience, and (3) IT.
Finance accounts for funds entering and exiting the organization through a variety of digital channels (e.g., credit card, ACH, etc.) and payment methods (e.g., text, social pay, Alexa, etc.), and reports and reconciles them against bank statements.
The CX team determines which moments are fitting to engage with the insured and what messaging matches the brand personality.
And, of course the IT team integrates the tool (or tools) required to make this all happen, while also managing data security and PCI compliance.
The collaborative effort of these groups creates a new payments center-of-excellence in the organization that leverages the payment interaction to deliver an engaging and frictionless experience, increasing loyalty and decreasing churn.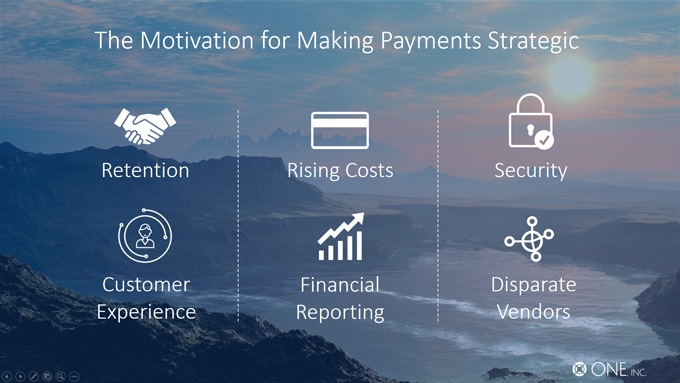 These are the six organizational challenges that can be positively impacted by taking a strategic apporach to payments.
---