J.D. Power recently released its 2018 U.S. Insurance Shopping Study, which ranks the top insurance companies based on a scale of customer satisfaction. For the 6th consecutive year, Erie Insurance topped the list, followed by Auto-Owners Insurance, American Family, Amica Mutual, The Hartford, and 15 other industry leaders.
How do these companies continue to satisfy their customers, year after year? We explored the top 5 and found three main characteristics in common.
A user-focused website
An active social media presence
Omni-channel bill payment options
While the benefits of these features are not specific to any one industry, insurance companies have traditionally lagged behind when it comes to updating technology and the user experience. Now that the changing consumer culture is no longer avoidable, you need to give policyholders the kind of experience they are currently enjoying from Erie and the other top performers, if you want to remain competitive.
According to Tom Super, Director of the Property and Casualty Insurance Practice at J.D. Power, "Auto insurers looking to differentiate and win new customers are making big bets with digital … [to] meet customers' growing expectations for improved interactions."
Auto insurers looking to differentiate and win new customers are making big bets with digital—such as in personalization—that meet customers' growing expectations for improved interactions. - Tom Super, J.D. Power
What can you do to close the digital gap between the status quo and top companies?
1. Offer a user-focused website.
Not surprisingly, the top 5 all have websites that are 1) user-oriented, 2) mobile-friendly, and 3) secure.

A Good User Experience
Each site offers a clean navigation and easy-access customer portal. Gone are the days of crowded homepages filled with nonessential details and sales pitches. The best performing sites organize content into an intuitive set of options, allowing visitors to efficiently access the information and tools they need.

Mobile-Friendly Options
With the majority of all internet searches taking place on mobile devices, any company that has not updated their website and payment platform can miss out on over half of all potential visitors. To test if your site is mobile-friendly (also known as responsive), you can use an online tool such as Google Mobile-Friendly Test. You can also check it out on your own phone to see how it reads and behaves on a small-screen.
In addition to responsive websites, the top 5 companies provide options for phone-based payments, and most also offer mobile apps for policyholders.

High Security
If mobile-responsiveness is a "must-have" feature, security is an absolute requirement. Without a secure website — particularly the payment portal — you risk not only losing individual customers and prospects, but you open your business up for a potential security breach, lawsuit, and/or public relations disaster.
The Federal Insurance Office Report on Protection of Insurance Consumers offers more information about protecting your customers' privacy,
2. Become active on social media.
Social media has provided the insurance industry an opportunity to connect with policyholders on a level beyond the usual conversation points of signup, payment, and claims. Top companies recognize the value of online engagement, and they are regularly interacting with customers across a variety of platforms, including Facebook, Twitter, LinkedIn, Instagram, YouTube, and Pinterest, among others.
Keep in mind that social media is not a place for the hard sell. An effective social strategy includes a range of valuable, platform-appropriate messages, from educational articles to fun, personal posts.

Starting a Social Media Strategy
Even if you're late to the social party, it's not too late to join. Focus on one or two main channels at first (for example, LinkedIn and Facebook) to open the conversation. Begin to build a relationship beyond monthly billing. Once you get to know what your audience likes — based upon response and analytics — you can expand your strategy to increase your reach and continue to earn trust and loyalty.
3. Offer omni-channel payment and communication options.
Through strategic use of insuretech, each of J.D. Power's top 5 companies provide a diverse set of convenient options for their customers to ask questions, access accounts, and make payments.

Various options include:
- Online Web Portals
- Email
- Phone
- Text
- Mail
- Social Media
- Mobile Apps
- Automatic Payment Setups
- Ability to use multiple payment types, such as credit, debit, check, and Automated Clearing House (ACH)
The most successful companies realize that there is no one-size-fits-all solution that will satisfy everybody. Some policyholders will still want to mail in their checks on a monthly basis, while others may prefer a semi-annual text reminder with a convenient One-Click Pay button.
The omni-channel approach respects your policyholders' time and preferences. And with alternatives, customers will be more likely to pay their bills and feel more satisfied with the whole experience.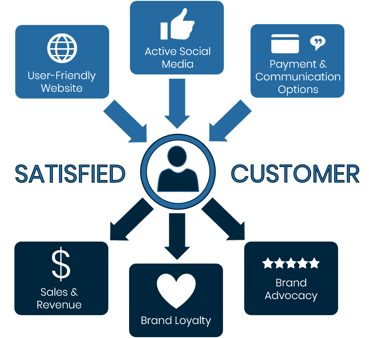 Conclusion
Luckily, these resources are not exclusive to the Fortune 500. All businesses can take advantage of web, social, and tech opportunities to create a positive customer experience, and ultimately drive an increase in sales, loyalty, and brand advocacy.
---
Questions? Comments?